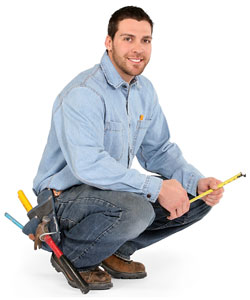 More and more homeowners are deciding to remodel and renovate their homes rather than move. Whether you are planning to add a small powder room or a large master bedroom with a fireplace and vaulted ceilings, selecting a reliable home improvement contractor is an important step towards realizing a successful project. Before you sign a contract or make any payments, review these simple pointers. They will give you a good idea of what to expect from your building contractor and the home improvement process.
An advertisement in the "home improvement" section of the Yellow Pages does not ensure that a contractor is licensed and reputable. Anyone can advertise in the Yellow Pages, and a Yellow Pages ad does not indicate a contractor's reliability or the quality of his work. It is best to get recommendations from friends, neighbors, or co-workers who have had remodeling work done. Licensed contractors often list their license number in their advertisements. Check out the contractor with the Better Business Bureau as well as state and local consumer protection officials. They can tell you if there are unresolved consumer complaints on file. Of course, no record of complaints against a particular remodeling contractor doesn't necessarily mean that the contractor is reliable. Unreported problems may exist, or the contractor may be doing business under several names.
Most, but not all, states require home improvement contractors to be licensed. Check with your state licensing agency or consumer protection officials to find out about licensing requirements in your area.
Your state licensing agency can verify that the contractor you're considering has the appropriate licenses, if required, and that they're current. You also can check with local building inspectors.
Contractors should carry personal liability, worker's compensation, and property damage insurance. Avoid doing business with contractors who don't carry appropriate insurance coverage. Otherwise, you could be held liable for any injuries and damages that occur during the project.
Comparison shopping should be based on each contractor's reputation, price, reliability, and experience. These factors are crucial to a quality home improvement project. Price alone is not an indication of a remodeler's competence or ability to complete your project.
When comparing estimates, make sure each estimate is based on the same set of plans and specifications as well as the same scope of work. If your remodeler suggests alternatives, request that they be presented as options.
You should expect to pay for a written project cost estimate. Most remodelers will charge for the time they spend preparing a detailed written estimate. The cost of the estimate will vary, depending on the complexity and scope of the project.
A well-written contract should include the contractor's name, address, phone number, and license number, if required. It should specify an estimated start date and completion date, the cancellation policy, and how change orders will be handled. The contract should include the payment schedule for the contractor, subcontractors, and suppliers. It should describe the work to be performed as well as any notable exclusions.
A change order is a written agreement to change the work described in the original contract. It could affect the project's cost and schedule. Remodelers often require payment for change orders before the modified work tasks begin.
In many circumstances, oral contracts are as enforceable as written agreements. So it is prudent to get verbal agreements added to your written contract.
If you sign the contract in your home or at a location that is not the seller's permanent place of business, you have three business days to cancel the deal. The Federal Trade Commission's Cooling-Off Rule gives you three days to cancel the contract.
You should expect to make payments when you sign the contract, when you get a regular invoice (weekly, monthly, or at specified milestones), when you sign a change order, and when you order a custom-made item.
Avoid making the final payment or signing an affidavit of final release until you are satisfied with the work and have proof that subcontractors and suppliers have been paid. Lien laws in your state may allow unpaid subcontractors and suppliers to "attach" your home through a "mechanic's lien." This means that subcontractors and suppliers could file lawsuits to force you to sell your home to satisfy their unpaid bills from your project. Protect yourself by asking the contractor, and every subcontractor and supplier, for a lien release or lien waiver.
If you get a loan for your home improvement project, you should have the lender make the check out to you rather than to the contractor. Otherwise, you lose control of the funds.
If you use your home as security for a home improvement loan, and you don't repay the loan as agreed, you could lose your home. The lender can take your home and sell it, using the proceeds to pay off the loan and any foreclosure costs.
This article is adapted from a 15-question quiz entitled "Test Your Skills at Hiring a Home Improvement Contractor," which was, until recently, located on the FTC.gov website.
---
Copyright © Zeducorp.
All rights reserved.
Hiring Home Improvement Contractors
Related Image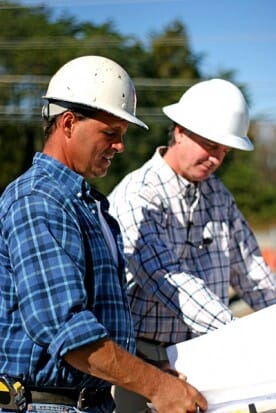 Contractors Reviewing Blueprints